Last week the latest unemployment figures were released by Stats SA and the rate of unemployment in South Africa has gone up to 29% That means almost one in three South Africans of working age are not in employment. These figures are even worse if you take into account discouraged jobseekers who have given up hope of finding a job, and young people without matric and not in education, employment or training (NEETs) find it almost impossible to find work.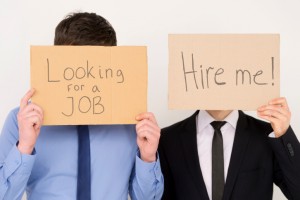 So in this dire situation are there ever circumstances in which you should turn down a job offer and when should you actually lower your expectations to take a job?
Q1. If you are an unemployed jobseeker are there any types of jobs that you should not consider no matter how much you need work?
Q2. Should you hold out for your dream job if are a graduate?
Q3. If you have a job what factors do you need to consider before looking for a new employer?
Q4. What are the benefits of taking internships, learnerships or other non-permanent roles?
Join us at 4pm to get the answers to the above questions by following the hashtag #JobAdviceSA as well as the @JobAdviceSA Twitter account and our host @TimJBarry
You can answer any the questions using A1, A2, A3, etc, or ask any other questions you might have, using the hashtag #JobAdviceSA.
We look forward to chatting with you later!