Job scammers make money out of desperate jobseekers who apply for lots of jobs and are keen to share their details and go to unknown buildings for an assessment or interview on the promise that they will be given a job.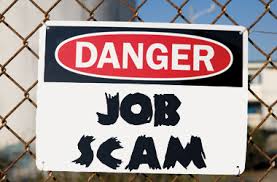 The more jobseekers learn about how to spot a job scam, the more sophisticated jobscammers become, so on this week's #JobAdviceSA chat we are going to discuss in detail all the signs that will help you avoid getting scammed and wasting your time, money or even running the risk of being kidnapped!
Here are the questions which were inspired by our community members @_Kgosigadi_ and @TholaMissTee 
Q1. How can you tell if a job advertised online was posted by a real company or recruitment agency?
Q2. If you get an SMS after applying on jobs website how can you tell if it's legitimate?
Q3. What are the red flags if you want to check whether an email inviting you for an assessment or an interview is trustworthy?
Q4. What should you look out for when you go to the place you were told you would have an assessment or an interview to tell whether it is a scam or not?
Join us at 4pm today to get the answers to the above questions by following the hashtag #JobAdviceSA as well as the @JobAdviceSA Twitter account and our host @TimJBarry
You can answer any of the questions using A1, A2, A3, etc, or ask any other questions you might have, using the hashtag #JobAdviceSA.
We look forward to chatting with you later!