Choosing good people to give you a work reference is one of the most important decisions to make when you are applying for a job. A good reference can make the difference between being offered the job and losing out to another candidate, so on this week's #JobAdviceSA chat we will be answering the key questions when it comes to work references.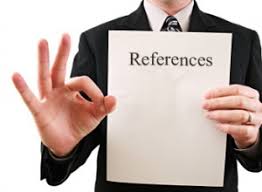 Thank you to Marlo Martin (@Marlo_Martin1) for suggesting today's topic and the first question, that and the rest being:
1. Who can I use as references in my CV?
2. When should you let them know they will be contacted to give you a reference?
3. If there is nobody at your previous employer who will give you a good reference what can you do?
4. How do you explain why you have been given a bad reference?
Our Hosts Tim Barry (@TimJBarry), Vanessa Raath (@Van_Raath) and Wesley Madziva (@WeszMadz) will be on hand to give their advice and answer your other questions from 16h00 to 17h00, but you are welcome to tweet your questions to @JobAdviceSA at any time or day, or if you are not on Twitter you can like our Facebook page www.facebook.com/JobAdviceSA and post your questions there.
Remember to tweet your answers using A1, A2, etc and the hashtag #JobAdviceSA or directly to @JobAdviceSA.
Structure – Four questions every 15min after the hour. Don't jump to next question before time, and please don't spam the #JobAdviceSA with ads or links to articles on a different topic!