Yesterday was International Day of People with Disabilities, or National Disability Rights Awareness Day here in South Africa. This seems to have gone a bit under the radar, perhaps because it was overshadowed by World AIDS Day on Friday, or because it fell on a Sunday this year.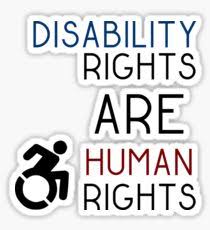 We at #JobAdviceSA feel that it is incredibly important to talk about disability rights, specifically in regard to the impact of having a disability on a person's prospects of finding work and being able to do their job as best as they can, so we will be answering questions on this topic as well as getting the expert advice of Ntsoaki Phali (@MsPhali), owner of Beyond Ability Talent Solutions, a specialist in recruiting people with disabilities.
Here are the questions:
What are the barriers to people with disabilities looking for jobs and how can recruiters help them overcome them?
How can the interview process be improved to accommodate people with disabilities?
What can employers do in order to help people with disabilities perform to the best of their ability?
What are the benefits to employers of having staff with disabilities and what more can they do to recruit them?
Our Hosts Tim Barry (@TimJBarry), Vanessa Raath (@Van_Raath), Elzette Fourie (@ElzetteFourie) and Wesley Madziva (@WeszMadz) will be on hand to give their advice and answer your other questions from 16h00 to 17h00, but you are welcome to tweet your questions to @JobAdviceSA at any time or day, or if you are not on Twitter you can like our Facebook page www.facebook.com/JobAdviceSA and post your questions there.
Remember to tweet your answers using A1, A2, etc and the hashtag #JobAdviceSA or directly to @JobAdviceSA.
Structure – Four questions every 15min after the hour. Don't jump to next question before time.